Sale!
Telrad Finder
In stock (can be backordered)
Description
The Telrad finder is the original and best selling reflex finderscope.
This simple, functional and accurate finder for a telescope is much easier to use than a conventional finder-scope.
It projects a set of circles 0.5 degrees, 2 degrees, and 4 degrees, that enable you to align your telescope on objects in the sky.
You can also use the circles to star-hop from one object to another. I.e. if a galaxy is 8 degrees away from a star, you simply count two 4-degree circles.
Two AA batteries will typically last 1-2 years.
Supplied with a universal base plate that can be attached via screw holes or the included sticky pads.
"We loved the view through the Telrad and everything worked without fuss" BBC Sky at Night Magazine
The Telrad finder is also popular with those working with stage lighting because, using a Telrad, follow-spot light operators can point with precision.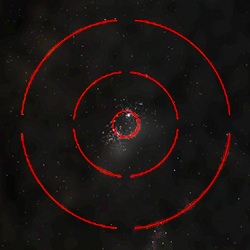 Features / spec':
Large unmagnified screen displays 1/2, 2 and 4 degree illuminated red circles.
Finder circles provide easy reference to star charts.
Makes star hopping fast, fun and easy.
Includes an adjustable brightness control
Easy mounting with the included detachable bracket
Compatible with virtually any size and make of telescope
Use with additional finder scope or other astronomy equipment
Dimensions including mounting base: L 215mm x W 45mm x H 127mm.
Weighs only 266g
Powered by two user supplied AA batteries
Telrad finder v Rigel QuikFinder review
Astro Has Lots of Other Astronomy Accessories Your Looking For – See Our Best Sellers Below
With Fast Shipping On Every Item, Discount Vouchers and 30 day returns, Why Not?
Questions?  Call us on
1300 ASTRODOG

or just use the form!
Additional information
| | |
| --- | --- |
| Weight | .5 kg |
| Dimensions | 28 × 18 × 10 cm |